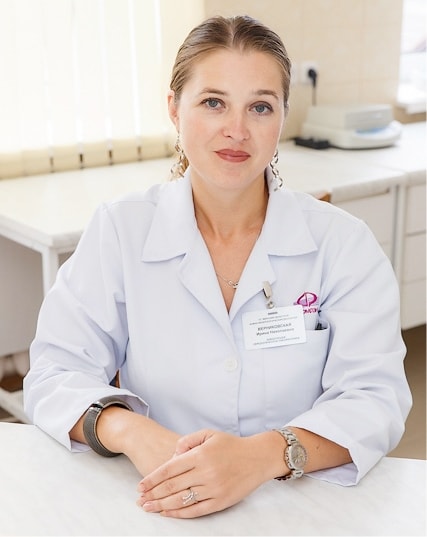 Irina Nikolaevna Vernicovskaya
Work tel. 292 58 17
doctor of laboratory diagnosis, Head of the SerologicLaboratory, 1-st qualification category
Serologic Laboratory provides serologic, immunologic and molecule-biological laboratory examination of the Dispensary patients and those from Minsk district. Paid services are also available.
Our Laboratory performs a wide range of tests. Among them, a complex of serologic reactions for syphilis: micro-reaction of precipitation with cardiolipin antigen, enzyme-linked immunosorbent assay (ELISA), TPHA. Immunosorbent assay for chlamydia trachomatis, herpes simplex, cytomegalovirus and toxoplasma is provided too.
Recently, a new test for detecting total antibodies (IgA, IgM, IgG) to CagA Helicobacter pylori antigen in blood serum using ELISA has been introduced. This test is recommended for epidemiological screening of blood and diagnosing gastric and duodenal diseases as a part of complex examination of patients with this pathology. This allows the doctor-cosmetologist to make a correct diagnosis in patients with different types of skin eruption.
Serologic Laboratory also performs diagnostic tests using the method of on-line polymerase chain reaction (PCR). At present, PCR is one of highly specific, sensitive and fast methods of molecular biology, which is successfully used for diagnosing infectious diseases. Unlike ALISA, which is widely used for infectious disease diagnosis, DNA-diagnosis allows determining the causative agent of the disease. The use of this up-to-date and highly sensitive method makes it possible a precise detection of a number of causative agents, such as DNA-Chlamydia trachomatis, DNA_Mycoplasma genitalium, DNA-HSV-1,2; DNA-HPV-16/18; DNA-Trichonomas vaginalis, DNA-CMV.
Serologic Laboratory has up-to-date special and supplementary equipment and disposable materials.
The Laboratory is equipped with the immunosorbent analyser and Sunrise Washer (Austria), REAL-time PCR BIO-RAD "iQ5" (USA) and "DNA-technology" (Russia), as well as advanced thermostats, inactivator and centrifuges.
The following investigations and techniques are available at the Laboratory: qualitative and quantitative micro-reaction of precipitation, TPHA, micro-reaction of precipitation from blood plasma (express-method), ELISA for diagnosing syphilis, toxoplasmosis, chlamydia, herpes, cytomegalovirus; PCR-diagnosis of human papilloma virus with high oncogenic risk, chlamydia, herpes, mycoplasmosis and trichomoniasis.